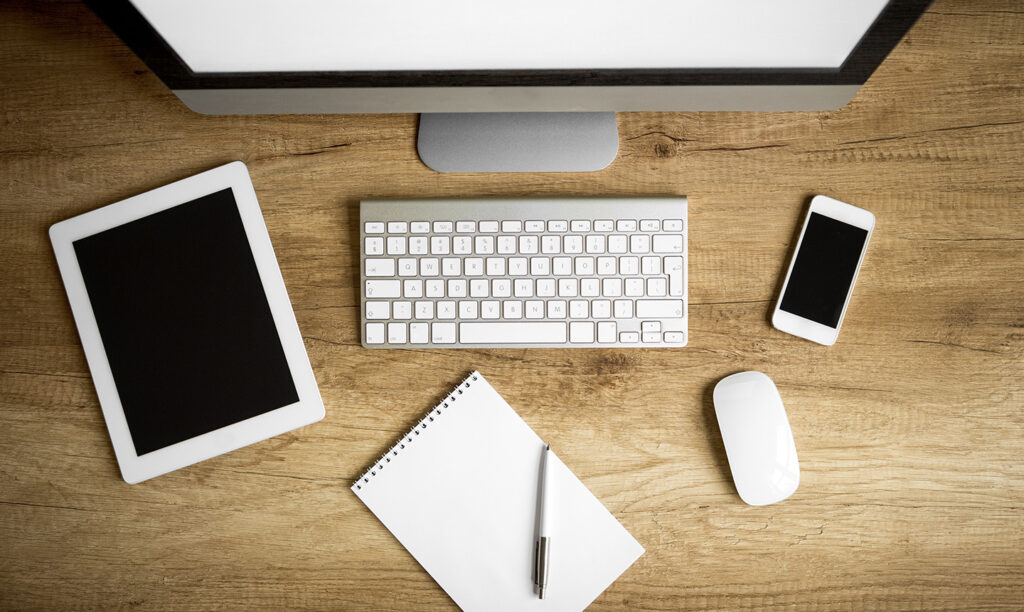 It is important to clean and disinfect the work area daily, especially if space is shared with other people, to eliminate germs, bacteria and viruses that may have been deposited on surfaces and objects. We must also disinfect those electronic devices that we touch most often, such as tablets, computers, mobile phones, etc.
Even if you do not share this space with other members, it is advisable for you to maintain a routine of cleaning and disinfecting electronic devices, which are one of the hottest spots in the home.
Guide to cleaning and disinfecting the work area and electronic devices
To clean and disinfect the work area, it is recommended to use rags or microfibre cloths -try to avoid scouring pads that can scratch the surfaces- and a non-abrasive disinfectant product, in other words one without bleach.
Before cleaning, you must turn off and unplug the devices, remove the batteries and wait a few minutes for them to cool down. If you have any questions about how to clean any of the devices, you can consult the manufacturer's manual.
Now we explain how you should disinfect surfaces, objects and devices in the work area:
Desk: clean the table with a damp cloth and a disinfectant product, such as Multi-Purpose Disinfectant – Eucalyptus. Spray directly on the surface at a distance of 20cm and spread with a clean, damp cloth.
Chair: to clean and disinfect the chair you must take into account the material in which it is made. With leather chairs, you can use a cloth with the disinfectant product. However, if it is made of fabric, it is better to opt for soap and water or a specific disinfectant such as Laundry Disinfectant – White Flowers. You must pay special attention to the areas where the arms and the head rest, since they are the surfaces of greatest contact.
Mobile or tablet: Did you know that a smartphone can have up to thirty times more bacteria than a toilet lid? It is therefore vitally important that we disinfect it each day with a damp cloth and a disinfectant cleaner. Spray on a clean and slightly damp cloth, never directly on the devices. You can also use a disinfectant wipe, such as Multi-Purpose Disinfectant Wipes – Eucalyptus.
Prevent liquids from coming into contact with any opening such as headphones, charger or speaker. For the mobile phone camera, it is best to use a specific microfibre cloth for lenses and for the mobile phone or tablet case you can clean it with a multi-purpose wipe or with soap and water.
Also, as preventive measures, avoid taking your mobile or tablet to the bathroom, wash your hands before using them or use the voice assistant to avoid constantly touching the screen.
Computer: You must clean and disinfect those areas that you touch most frequently, such as the power button. Be careful with connectors such as USB.

Keyboard: clean the space between the keys with a toothbrush previously moistened with the disinfectant product. For the surface, we recommend you wipe the keyboard with a damp cloth or a multi-purpose disinfectant wipe.
Mouse: You should insist on the areas in contact with hands and fingers. If you use a mat for the mouse, it is also convenient to wipe it with a disinfectant.
Screen: clean the external area, edges and buttons. For the screen, you can wipe it with a dry cloth with a specific product for that surface.

Headphones: If you are someone who listens to music with headphones while you work, it is also essential that you disinfect them. Use a microfibre cloth with disinfectant. If they are earbuds, clean only the external part and remove the dirt accumulated on the grilles with a toothbrush.
USB devices (pen drives, hard drives, etc.) and chargers: use a damp cloth without touching the metal part.
Activity wristbands and smart watches: If they are waterproof, you can clean them with soap and water.
Also, as a preventive measure, remember that after cleaning and disinfecting the work area and mobile devices, you should wash your hands with soap and water or hydroalcoholic disinfectant gel.
How can we improve our teleworking routine?
In addition to keeping the work area clean and sanitised, organising both the workplace and yourself is essential in being more efficient and reducing stress. If you are not used to working from home and do not know where to start, we give you some tips to help make the working hours more bearable.
Set yourself a timetable: set the start and end time of the workday, as well as breaks to maintain your concentration and productivity. Try to adapt the timetable to your family's needs as far as possible.
Get dressed every morning: Get into the habit of dressing and grooming yourself before starting work.
Set up a suitable working area: if possible, use an isolated room with adequate lighting and a comfortable chair. The work table must be wide and have the necessary material for work.
Maintain daily contact with your collegues.